There is a certain way that the sun hits the snow just right. It's the way it would hit a prism or a crystal. It shines over the blanket of whiteness and explodes, dazzles, flings itself into the air with wild abandon. This is winter in Dubois, up on Togwotee or Union Pass. Maybe it's just you, maybe you brought along some friends.  Either way you hear that crunch of the snow beneath your snowshoes.  Or maybe there is only the sound of your skis as they glide through feet of fresh powder.
Or maybe it's the sound of the wind and the feel of the cold against your face as you stand on the top of Two Oceans, ready to make some turns on the un-tracked slope.
All Things Snow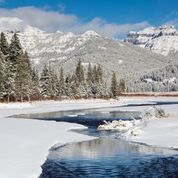 It's all of these things and more, which is why Dubois, Wyoming is fast becoming the premier winter outdoor destination  for backcountry-minded adventurists.
Known as the Valley Of The Warm Winds, Dubois, and the surrounding valleys and plateaus that make up the greater Dubois outdoor playgrounds get an average of 46 inches of snow per year with an average 235 days of sunshine.
If you are having trouble seeing the math, it breaks down like this. Dubois has lots of snow and lots of sunshine, meaning you'll be peeling layers off as you head off into the vast trackless wilderness.
Miles and Miles To Go
Access to these winter trails are many and the parking areas are kept plowed by the trusty Wyoming Department of Transportation and the local volunteer group Dubois Area Recreation and Trails.
The superb Falls Campground and the Brooks Lake Lodge road offer wide trails that wind their way through meadows and forests.
Lava Mountain Lodge is a great place get to get cozy, warm and satiated with any type of libation you desire.
A Trek In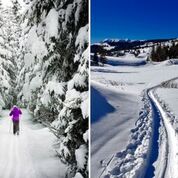 Feeling particularly adventurous?
You can ski or snowshoe the Brooks Lake road all the way to the Brooks Lake Lodge, where you will be rewarded with a roaring fire, great small plates and a hot drink of your choice.
Backcountry Mecca
Some of the best back country skiing in the world can be found on Togwotee Pass.
Haven't heard about that? That's because those in the know want it that way.
Names like Two Oceans, East Angle, Into the Wilderness and the Northwoods are barely scratching the surface of all the marked and un-marked descents.
With high fees and crowded conditions and a fortune spent on food, backcountry skiing is being pulled from the bench and pushed into the power forward position.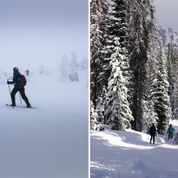 And Togwotee Pass is starting to gain a reputation.  It's the place to go for untapped, challenging lines on top of layers and layers of fresh powder.
Sleep Well, Friend
While you can stay in  lodges on the Pass, we would recommend you stay in Dubois itself.  You will be closer to town and all the amenities and restaurants that Dubois has to offer. Staying in town is the easier option with the typical industry-standard rates. Dubois boasts a number of great motels and family-owned guest-houses. The Rocky Mountain Lodge is an economically-friendly place with great amenities like kitchenettes, high speed wifi and considerable mountain views. The Branding Iron Inn, the Stagecoach Inn and the Twin Pines Lodge and Cabins are all great too in different ways. Each of these clean, simple and affordable rooms have great standard amenities. They are easy on the pocketbook and have high-speed wifi. They all have charming little differences which makes each stay unique and memorable in their own way.
All That You Could Want
Whatever your speed, whatever your distance; casual day trips or adrenaline filled downhill. It's all here.
This is powder, this is epic, this is what winter in Dubois is all about.