Around Dubois, mountains are us. Dubois is beginning to earn the reputation of a great basecamp for hikers, backpackers, mountain bikers, and outdoor adventurers of all kinds looking to explore the region.
Go mountain biking on our turf, and enjoy the effort that got you to a secluded mountain meadow or a cascading creek.
In recent years, the mountain biking community has been growing and with support from the local nonprofit Dubois Association for Recreation and Trails (D.A.R.T.), they have built and are continuing to build trails right in and around Dubois. Surrounded by mountains, Dubois is full of perfect terrain just waiting to be turned into glorious singletrack that weaves its way through forests, over ridges, and along wild creeks.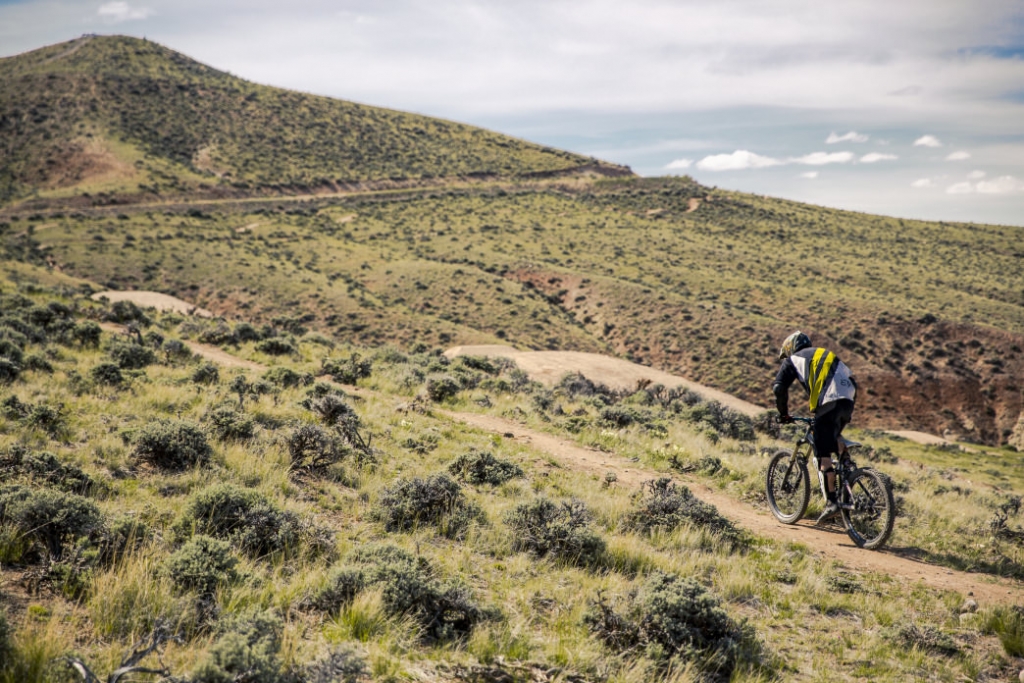 Dubois' home-grown Overlook Trail system was intentionally crafted by mountain bikers for mountain bikers. This 4.2-mile network of maintained singletrack twists through red, beige, and white painted hills while the snow-capped summits of the Wind River Range loom in the distance. The highest point on the trail reaches 7,505 feet above sea level and there are two main trailheads along Mckinley Drive. The lower trailhead offers a bit of climbing along a gravel road to start your ride (via Mckinley Drive) but many riders prefer to park at the upper lot and cruise down to the lower trailhead as a point-to-point. Designed with speed and flow in mind, this trail was made to be ridden from the top.
A modest 315-foot climb gives way to 639 feet of downhill action along the accessible, intermediate Rise and Schiner. Riders can take this line directly from top to bottom or mix in the two connector trails: Daved and Confused and Trev It Up. Staying on the Rise and Schiner promises banked turns and zippy straights—perfect for less experienced riders or anyone who enjoys low-technical, high-fun lines. The optional connectors add in a series of jumps, with Trev It Up offering up the most technical segments (and the most air time).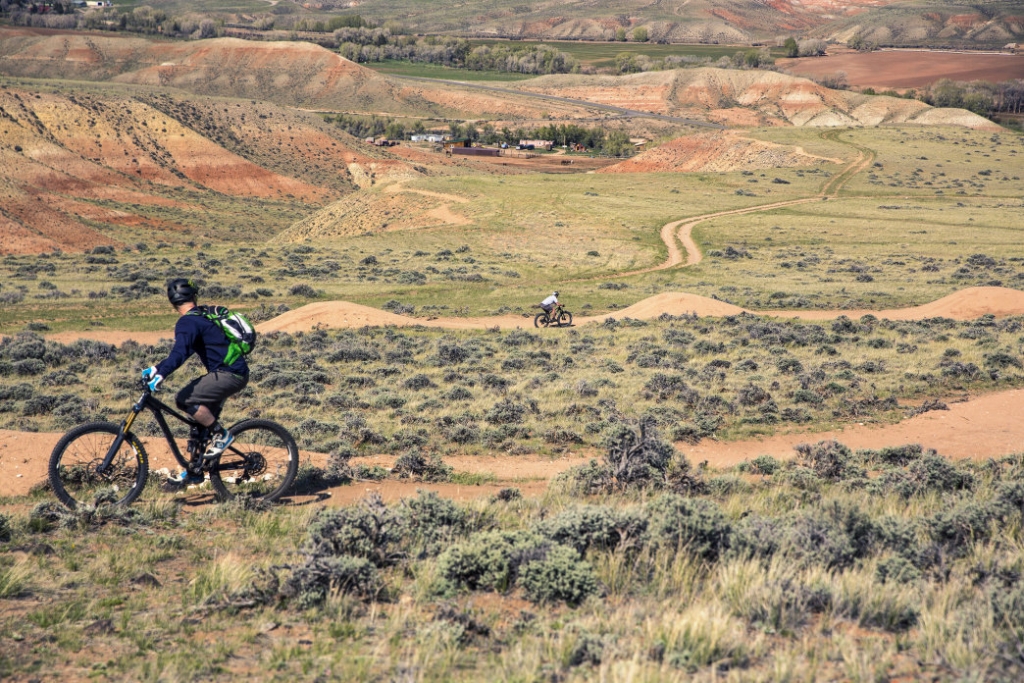 Trails merge back into Rise and Schiner for the final descent to the lower parking area. From there, bikers can shuttle back up, pedal the gravel road, or call it a day. It's easy to be inspired to add on a few more laps, both for the superb riding and the majestic views.
The Overlook Trail network is a great place for riders of all levels to come together and leave satisfied. Casual riders, beginners, and rippers alike will thrill as they zip along delicious singletrack. The trails are smooth and well-cambered, so they will be forgiving for hesitant newbies and overly zealous experts. The most appeal may be for intermediate riders who can handle speed but want to improve cornering, jumping, and control.
Just outside Dubois, riders can bask in the numerous trails of the Shoshone National Forest. A short, 20-minute ride from town, the 2.4 million-acre forest has 1,300 miles of trails and boundless views of the mountains and plateaus that surround it. While there are no marked mountain biking trails in the forest, there are numerous multi-use trails on the forest service map, most of which are accessible for mountain bikes (barring any in wilderness areas). These rides will be a bit more exploratory than the Overlook Trail network, but that's part of the adventure. There is a Forest Service office in Dubois where you can grab a map and get more info before you leave town.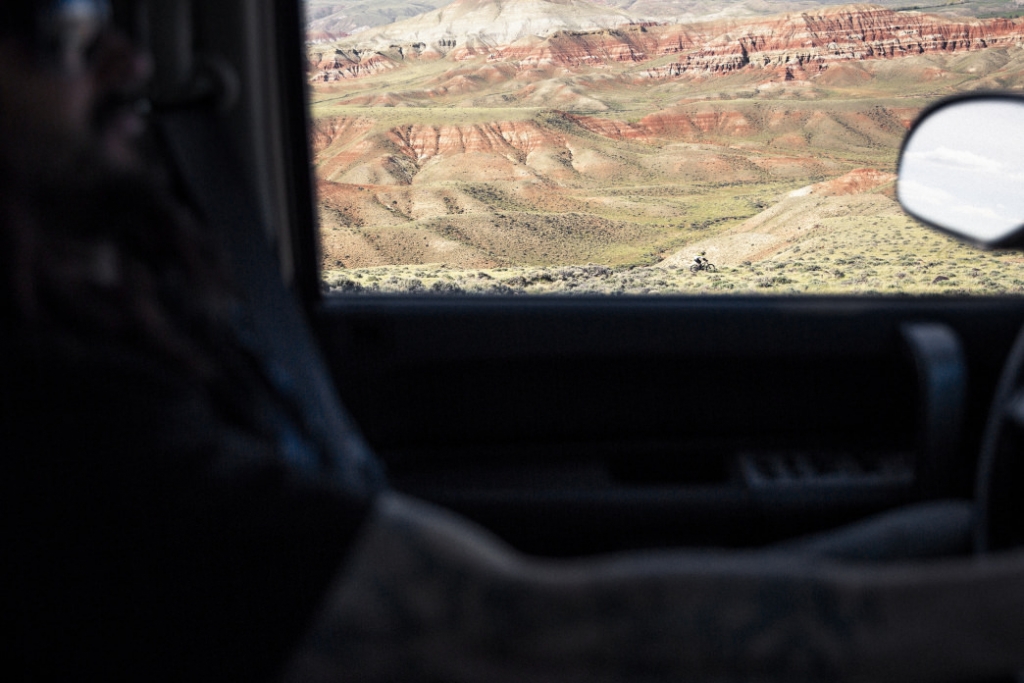 The 48-mile Union Pass Road is another great spot to ride. The road connects Dubois to Pinedale and is a mix of gravel and paved surfaces. It's a challenging ride on rocks to an elevation of 9,210 feet, but the views you will find at the top of the pass are well worth the effort—you can see the Absarokas, the Wind River, and Gros Ventres mountain ranges from the one vantage point. You don't have to ride the whole thing either, but instead go out as far as you want, take in the beautiful scenery along the way and head back into town when you are done.
(Please follow some simple rules: You may be sharing the trails with hikers and people on horseback; please don't scare the walkers, the riders, or the mounted animals. Horses always have the right of way. Stop your bike, don't make rush movements. Let the horses see you.)
Originally written by RootsRated for Dubois Chamber of Commerce.


Save
Save