If Wyoming is the 'Cowboy State', then the land around Dubois is horse country. There are a handful of corrals in town and horse-friendly ranches so that your horse can be just as comfortable as you are. You can hitch your own horses in the town park, corral them in several of the town's motels, book a day ride, or plan a multi-day horse packing adventure with any of several local experienced local guides and outfitters.
Horse packing trips can be customized to whatever you want to do, whether it's fishing for high mountain trout, hiking in the nearby national forests, or trying to capture the perfect photo to put above your fireplace at home. Most outfitters in Dubois provide you with a horse, saddle, pack, guide, tent, and will even cook you a hearty meal after a long day on the trail. All you need to bring are your personal items and a sense of adventure.
Or you can hitch up and ride all day while enjoying creature comforts at night, if you book a stay at one of the many guest ranches in the area. Adventurers were visiting guest ranches here before you were born (unless you're over 100 years old). It's still one of the best ways to experience the greater Dubois area on horseback.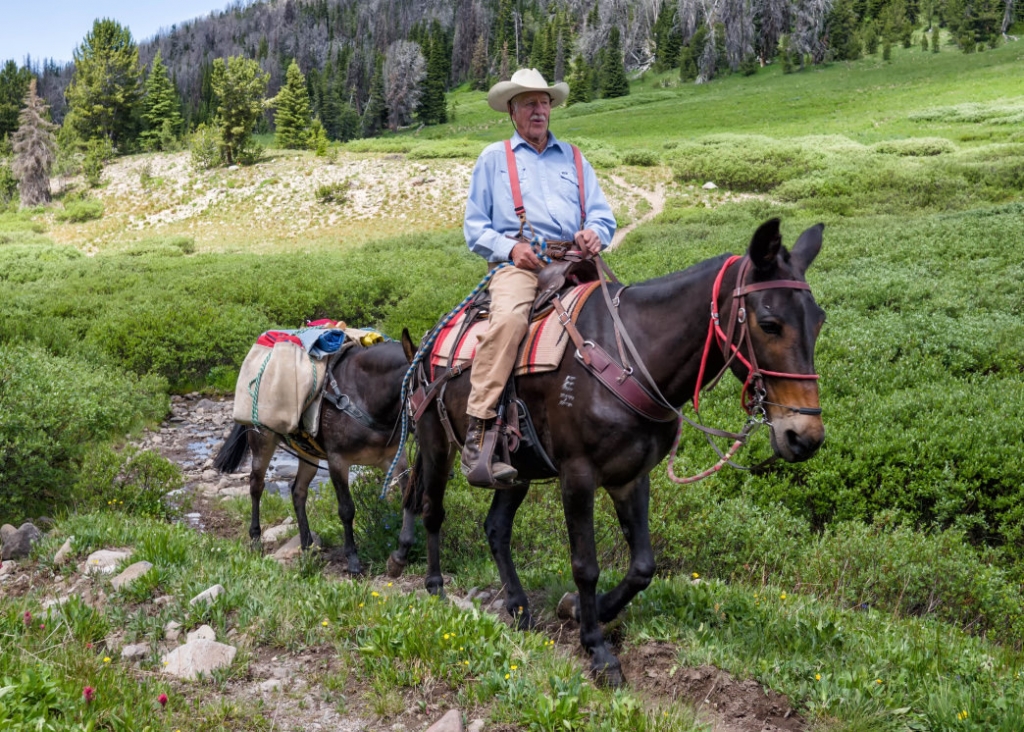 While Dubois sits at just less than 7,000 feet in elevation, a horsepacking trip can get you as high as 11-12,000 feet through passes in the nearby mountains. You'll see wildflowers, mountain peaks, rivers and streams—all virtually untouched. Horsepacking is the best way to get into more remote areas if you don't have the time (or the interest) to hike out there. While trips range in length from a day trip to a couple weeks, a weeklong itinerary will include camping at several different spots and exploring the surrounding land during the day. You might spend a day spotting elk, marmots, or Bighorn Sheep. Or you could spend time casting a line in one of the wild streams. If you are brave (or dirty) enough, you might even want to take a dip in one of the cold streams fed by snow runoff from the mountains.
If you aren't used to horseback riding, you may want to consider wearing padded bike shorts or look into a saddle cushion to make it a little easier to spend multiple hours in the saddle over multiple days. You'll also need a pair of boots with good heels that settle into the stirrups, as well as a cowboy hat with "stampede strings" to tie around your neck. Not only will it make you feel like a real cowboy (or cowgirl), it will protect you from the sun, and the strings will keep the hat on your head when the Wind River country breeze blows.
Who is Going to Love It
If you enjoy camping and horseback riding, a horsepacking trip is the best of both worlds. Check with the outfitter or ranch about any age or health requirements, but pretty much all you need is an adventurous spirit. Since the trips can be customized, you can do as much or as little activity as you'd like, so there's not the same prerequisite level of fitness necessary as there would be for a backpacking trip on foot.
Save
Save
Save