Hiking
Surrounded by natural beauty and both state and Federal protected lands, Dubois abounds in unsurpassed opportunities for hiking. National Geographic Adventures ranks hiking the Wind River range as one of the top 50 adventures in the United States.
Read about some of our favorite trails, and how to find them: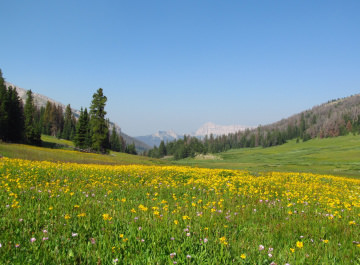 Few trails are as rewarding as Bonneville Pass. Rising though a gorgeous valley, the trail climbs to the top of the pass to the Continental Divide …. while the flowery meadows and streams adorn the land below …  (Read more.)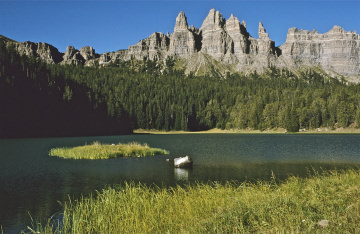 The best part about this hike is the scenery:  Horse Creek and the gorge below, expansive meadows, and the impressive Absaroka Mountains in the background. There's a good chance of spotting wildlife along this remote trail …  (Read more.)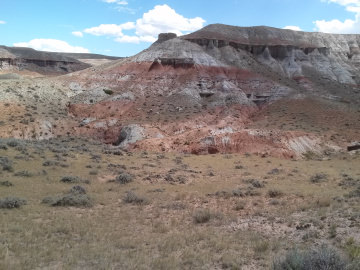 The Badlands of western Wyoming are breathtaking, and one of the best vantage points near Dubois is from the top of Table Mountain. … You'll have an expansive view of the badlands and the draws below … (Read more.)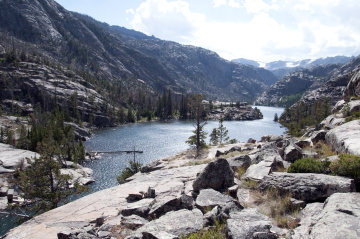 Whiskey Mountain and Lake Louise
Found at the northeast corner of the Wind River Range, Whiskey Mountain and Lake Louise are two of Wyoming's hidden wonders…. Exploring both of these trails in a day is a fine way to immerse yourself in the Winds …  (Read more.)
You'd also enjoy exploring:
Brooks Lake Trails. Reached by a gravel road leaving US Highway 26/287 about 20 miles west of Dubois, you can hike approximately 3 easy-to-moderate miles uphill from the breathtaking setting of Brooks Lake to Upper Brooks Lake or Jade lake.
Double Cabin and Horse Creek. Twenty-five miles north of Dubois, driving up Horse Creek Road from the middle of town, you reach Double Cabin, a remote campground surrounded by towering mountains of the Absaroka Range. Two trails go deep into the wilderness north of the campground, and one leads south. The Frontier Creek Trail leads to a petrified forest that once abounded with fragments of trees turned to stone, before hordes of hikers pilfered them all away. You may still find a few rocky tree stumps too huge to lift. (It's illegal to remove petrified rocks from this area, as it is to lift any artifacts of interest from any government-administered land.)
Sheridan Creek.

 

Drive about 17 miles west of Dubois and turn left onto Forest Service road 532 to enter this popular camping area. A wealth of old logging roads penetrate into this part of the forest. They may lead you to an abandoned homestead in a mountain meadow if you're lucky, or just to a fabulous vista of the peaks of the Absarokas if you're not. (But stay to the paved roads or old logging tracks to avoid losing your way. There are no marked hiking trails in this area.)
Union Pass. Set off up Union Pass Road, well marked on the south side of US Highway 26/287 about 14 miles west of Dubois, to reach the high pass where three major rivers divide and where you can see four mountain ranges from one location. You'll come across the Continental Divide Trail up here, but many other small roads also beckon for day hikes.
A few words for the wise: Hiking at altitudes above 7,000 feet can be challenging and perilous. Be sure to use plenty of sunscreen and take plenty of water, a hat, bear spray (available at many stores in Dubois), and a Forest Service map and topo map, since cell service is fickle and apps may not work.
For further information, visit the Shoshone National Forest Ranger Station at 1403 W. Ramshorn St. at the western edge of town (307-455-2466). Staff at the Dubois Museum often have good suggestions.
Save
Save