Falls Campground
Just a 30-minute drive from Dubois, the Falls Campground gives you the chance to pitch a tent or park your RV near a gorgeous waterfall surrounded by a pine and fir tree forest. Running next to the campground, Brooks Lake Creek leads to a stunning overlook of the main waterfall and the mountains beyond, giving you a glimpse of the beauty that can be found less than a quarter mile from your campsite. Perfect as a base camp for day trips to Brooks Lake, the Grand Tetons, or the Wind River Range, or just for a quiet place to hang out for a couple days, this campground is a must-stop destination for beginning campers and those looking for convenience.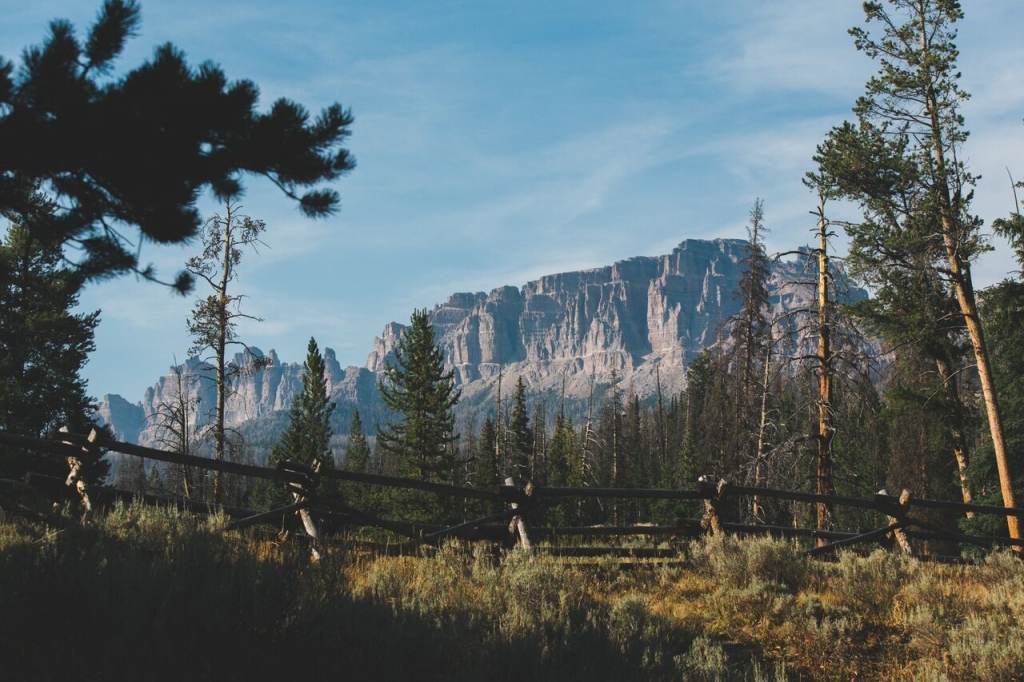 What Makes It Great
The Falls Campground is located right off the main highway, a convenient choice if you aren't a seasoned camper. That doesn't mean that experienced campers won't enjoy the experience, though—this campground is a great spot to use as a base camp for exploring both the Tetons and the Wind River Range. With picnic tables, a short hike to a waterfall, and a gas station with some basic groceries less than three miles away, the Falls Campground is a wonderful place to relax after a day of exploring and connecting with the beauty of Wyoming.
The campground is minutes from incredible hiking and backpacking in the Wind River Range and the Shoshone National Forest, and is only about 43 miles from Grand Teton National Park. Being so close to these natural areas gives you the opportunity for a full day of hiking and catching the sunset over the mountains, then returning back to camp to settle in by the fire for a mug of hot cocoa and some stargazing. Pick a spot closer to the waterfalls, and fall asleep to the sound of running water—the perfect soundtrack to the stunning display of stars that are visible on clear nights.
Who is Going to Love It
While everyone would likely enjoy spending a night (or seven) at Falls Campground, the close proximity to amenities and travel makes it ideal for those looking to wake up early and head out for a full day's worth of adventures.
It is also a good choice for families, as nearby amenities can help make camping a bit easier for kids (or anyone new to camping). With a short, 0.2-mile hike to a waterfall overlook near the campground and a delightfully long trail into the nearby woods right from the campground (be sure to have bear spray), this is the place to go if you want to ease into camping in the greater Dubois region. There are 54 sites at the campground, and generally plenty of room for everyone.
While there won't be hot showers or flush toilets available (there is a restroom building), this is the perfect spot to practice your camping skills before heading to somewhere wilder or more remote.
Directions, Parking, & Regulations
From Dubois, head northwest along US-26 W/US-287 N for 20.4 miles, turning left at the campground.
Remember that this campground is in grizzly bear country so always carry bear spray when you hike near by, and practice safe food storage. There are bear-proof containers at the sites and it is mandatory to store your food in them.
Image: Lyndsey Garber