Welcome to Dubois WY

Dubois (it rhymes with "cowboys") is one of the last real old West towns, a charming small gem that retains the Frontier feeling. Here you feel like you're wonderfully in the middle of nowhere. But you're also at the center of everything.
Only an hour away from Yellowstone and Grand Teton National Park over scenic, smooth Togwotee Pass highway, it's peaceful here. But there are so many things to do in Dubois! Come find all you need for a great vacation or a wonderful rest of your life.
Just out our back door, you can find countless hiking trails, go horseback riding or fly fishing, go mountain biking or explore with a four-wheeler most of the year. The moderate climate in the valley of the warm winds means that almost any day you'll find pleasant weather. In winter, the snowmobiling, snowshoeing, and Nordic skiing are exceptional.
Any time at all, you can enjoy our spectacular landscape, have many opportunities for wildlife viewing, and enrich yourself by learning about our legendary history, geology, and archaeology.
There are plenty of places to stay in Dubois, from luxury lodges to remote guest ranches. You'll find friendly taverns and restaurants with menus from rustic to fusion.
Plan your trip to discover Dubois now! When you arrive, be sure to stop by our Visitor Center at 20 Stalnaker Street.
You'll find a warm welcome any time of year.
Photograph by Gary Keimig
Local Favorites
Events
Events
People in Dubois love an event, and we have all you need to create great memories. Channel your inner cowboy at the square dance or the rodeo. Take a fresh view of the fabulous landscape at one of the many art shows, or join a geology tour. Click below to see what's going on now!!
Monthly Events
M
T
W
T
F
S
S

1

Double Point

Starts: 12:00 am

Ends: 12:00 am, February 2, 2017

Dubois Rocks! An Intro to Climbing

Starts: 7:00 pm

Ends: 9:00 pm, February 1, 2017

2

Signatures in the Snow

Starts: 6:30 pm

Ends: 7:30 pm, February 2, 2017

3

4

5

6

Magic Mondays Slot Tournament

Starts: 12:00 am

Ends: 12:00 am, February 7, 2017

Neversweat Readers Book Club

Starts: 5:30 pm

Ends: 6:30 pm, February 6, 2017

Discover Your Family Connections

Starts: 7:00 pm

Ends: 8:00 pm, February 6, 2017

7

8

Double Point

Starts: 12:00 am

Ends: 12:00 am, February 9, 2017

Conceptual Astronomy

Starts: 6:30 pm

Ends: 8:00 pm, February 8, 2017

9

ColorFest

Starts: 5:30 pm

Ends: 6:30 pm, February 9, 2017

Basic Meditation

Starts: 6:30 pm

Ends: 7:30 pm, February 9, 2017

Knots and Lashings

Starts: 7:00 pm

Ends: 8:00 pm, February 9, 2017

10

Whiskey, Wine and Craft Beer Tasting

Starts: 3:00 pm

Ends: 5:00 pm, February 10, 2017

Skate Skiing Beginners Workshop

Starts: 5:30 pm

Ends: 6:30 pm, February 10, 2017

11

Dubois Friends of the Library Book Sale

Starts: 10:00 am

Ends: 2:00 pm, February 11, 2017

Food Bank

Starts: 10:00 am

Ends: 12:00 pm, February 11, 2017

12

13

Magic Mondays Slot Tournament

Starts: 12:00 am

Ends: 12:00 am, February 14, 2017

14

Public Transportation to Riverton

Starts: 8:00 am

Ends: 9:00 am, February 14, 2017

15

Double Point

Starts: 12:00 am

Ends: 12:00 am, February 16, 2017

16

17

18

Food Bank

Starts: 10:00 am

Ends: 12:00 pm, February 18, 2017

19

20

Magic Mondays Slot Tournament

Starts: 12:00 am

Ends: 12:00 am, February 21, 2017

21

22

Double Point

Starts: 12:00 am

Ends: 12:00 am, February 23, 2017

23

Preparing Cheap Backpack Food

Starts: 7:00 pm

Ends: 8:00 pm, February 23, 2017

24

25

26

27

Magic Mondays Slot Tournament

Starts: 12:00 am

Ends: 12:00 am, February 28, 2017

Tenants, Traditions and Treaties

Starts: 6:30 pm

Ends: 8:00 pm, February 27, 2017

28

Public Transportation to Lander

Starts: 8:00 am

Ends: 9:00 am, February 28, 2017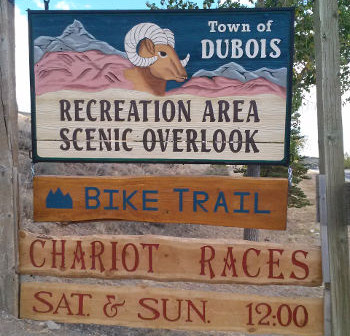 Upcoming Events
Food Bank
Starts: 10:00 am
Ends: 12:00 pm, February 25, 2017
Paint and Wine
Starts: 4:00 pm
Ends: 6:00 pm, February 25, 2017
Dubois Soupenanny
Starts: 5:30 pm
Ends: 7:00 pm, February 25, 2017