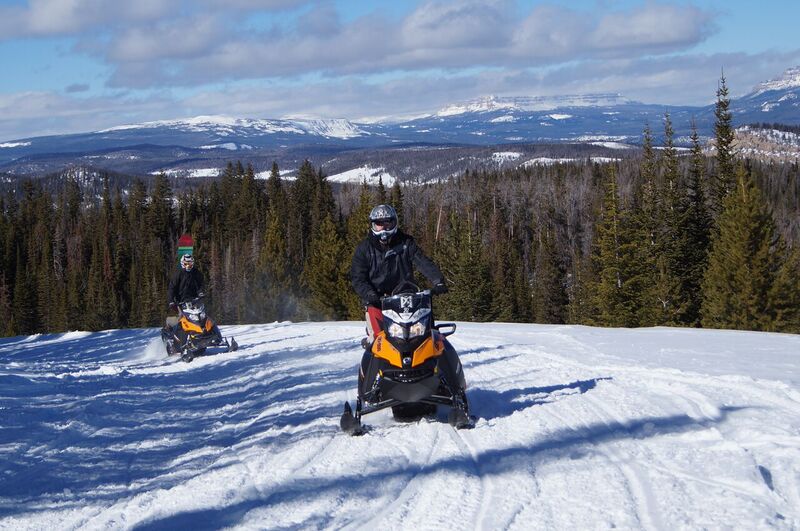 Dubois is the place to find truly world-class snowmobile adventures. The snow base west of town averages from one to ten feet in winter. Skies are usually sunny, the climate is pleasantly dry, and the season is remarkably long.
For several years, readers of SnoWest magazine have designated the nearby Continental Divide Snowmobile Trail as the best in the American West  for scenery, grooming, signage, snow quality, terrain, weather, and other features.
But that's only one of the options among many on high Union Pass, where you can drive for hours over uninterrupted open fields, sometimes seeing mountain peaks on all sides.
At around 9000 feet in elevation, Togwotee Pass west of Dubois is renowned for late-spring snowmobiling.
With more than 100 miles of groomed trails and untold acres of pristine snow for off-trail riding, at elevations between 6,000 and 10,000 feet, this is the kind of location a snowmobile enthusiast dreams about.
Back in town, you'll find plenty of rest and relaxation at any of Dubois' authentic Western motels,  rental cabins, restaurants, and taverns. Supplies and repairs are easily available at several machine dealers in Dubois.
For more information and regulations, check out the Wyoming State Trails Program website or visit the Shoshone National Forest Ranger Station at 1403 W. Ramshorn St. at the western edge of town (307-455-2466).