Climate and Altitude
Dubois is blessed to be situated in the Wind River Valley, which the native Shoshone called "the valley of the warm winds." The climate is pleasantly dry, with moderate daytime temperatures most of the year. Temperatures are generally cool in summer and fairly mild in winter, fluctuating widely between early morning and mid-afternoon.
Average temperatures range between 12° F (-11° C) and 37° F (+3° C) in January and February and between 43° F (5.8° C) at night and 78.5° F (26° C) in the afternoon in July and August.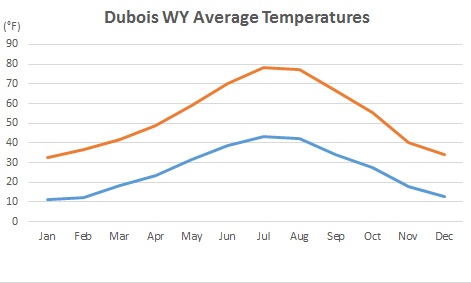 The dry air makes cold temperatures feel milder and the heat feel cooler. But the powerful high-altitude sun can feel very warm, and high winds can be biting in the winter.
The town of Dubois sits at an elevation of about 7,000 feet (2134 m). Hiking or a horse packing trip into the mountains nearby can take you as high as 10,000 feet (3050 m). If you come from a lower altitude, allow yourself to adjust.
Travel tips:
Bring long sleeved shirts and extra layers. Cowboys always wear long sleeves and vests for a good reason.
You'll need a hat to protect yourself from the sun, and perhaps for warmth. Cowboys always wear brimmed hats for a good reason. (You can buy one in town if you forget.)
Whatever the season, bring a coat or jacket that acts as a wind-breaker. You'll probably want it in the evening, even in summer.
Always protect your exposed skin with sunscreen. The sun is very strong at this elevation.
Drink lots of water. The high elevation and dry climate are dehydrating.
Take it easy. It may take several weeks to adjust fully to the elevation. Expect to tire more quickly than at lower altitudes.
Save