Events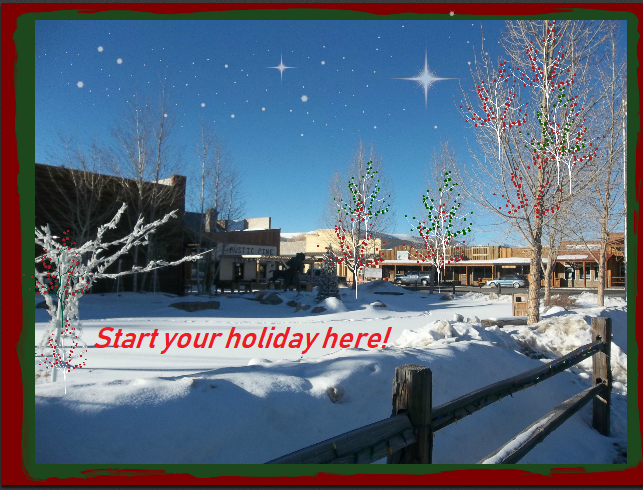 Start the holidays out right in snowy, spectacular Dubois on the first weekend in December, starting with a 30% discount at historic Twin Pines Lodge and Cabins.
Buy a pre-decorated Christmas tree and other gifts at the Christmas Extravaganza on Friday, December 1. Enjoy snowshoeing or shopping on Saturday, followed by the Christmas tree lighting in the town square at 5 PM.
After dinner in one of the great restaurants downtown, kick up your heels with Packin' the Mail at the Headwaters.
Bring the kids! Santa and his Mrs. will be present too.
M
T
W
T
F
S
S

1

Double Point

Starts: 12:00 am

Ends: 12:00 am, November 2, 2017

2

Winter Farmers Market

Starts: 4:30 pm

Ends: 5:30 pm, November 2, 2017

3

4

Food Bank

Starts: 10:00 am

Ends: 12:00 pm, November 4, 2017

Bighorn Bash Annual Fundraiser

Starts: 5:00 pm

Ends: 6:00 pm, November 4, 2017

5

Jammin' at the Museum

Starts: 2:00 pm

Ends: 3:00 pm, November 5, 2017

6

Magic Mondays Slot Tournament

Starts: 12:00 am

Ends: 12:00 am, November 7, 2017

7

8

Double Point

Starts: 12:00 am

Ends: 12:00 am, November 9, 2017

9

10

11

Food Bank

Starts: 10:00 am

Ends: 12:00 pm, November 11, 2017

12

13

Magic Mondays Slot Tournament

Starts: 12:00 am

Ends: 12:00 am, November 14, 2017

14

15

Double Point

Starts: 12:00 am

Ends: 12:00 am, November 16, 2017

16

Winter Farmers Market

Starts: 4:30 pm

Ends: 5:30 pm, November 16, 2017

17

Breakfast with Bighorns

Starts: 8:00 am

Ends: 10:00 am, November 17, 2017

18

Food Bank

Starts: 10:00 am

Ends: 12:00 pm, November 18, 2017

19

20

21

22

23

24

25

26

27

Magic Mondays Slot Tournament

Starts: 12:00 am

Ends: 12:00 am, November 28, 2017

28

29

Double Point

Starts: 12:00 am

Ends: 12:00 am, November 30, 2017

30

Deadline for DeLight Dubois Contest

Starts: 12:00 am

Ends: 12:00 am, December 1, 2017
Save
Save
Save
Save
Save
Save
Save
Save
Save
Save
Save
Save
Save
Save
Save
Save
Save
Save
Save
Save
Save
Save
Save
Save