Events
Don't Miss the Great Art Walk and Music Show!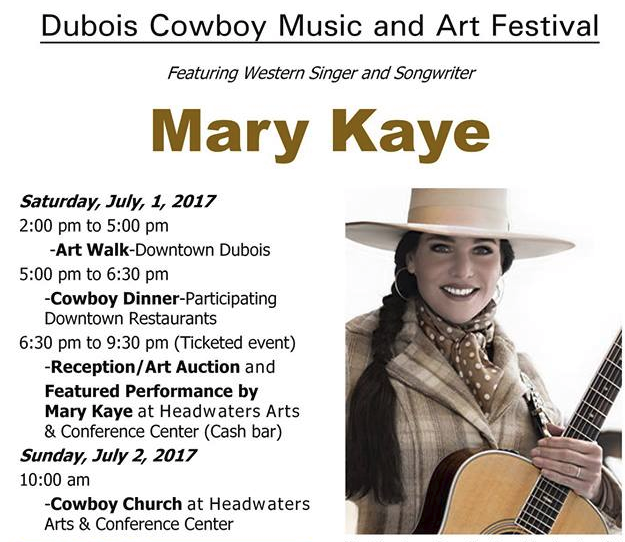 Sponsored by the Ramshorn Gallery in downtown Dubois, this two-day event celebrates our cowboy heritage. (Dubois is pronounced like "cowboys," after all!)
Enjoy Western art on the streets downtown in the afternoon, followed by dinner at some of our great restaurants.
Spend your evening listening to the real country sounds of Western singer and songwriter Mary Kaye. Tickets are $30 at the door or $25, available online at Brown Paper Tickets.
Have a good night's sleep after a great day out, and start Sunday right with Cowboy Church at the Headwaters. Click here for lodging information or phone the Dubois Chamber of Commerce at 307-455-2556l

M
T
W
T
F
S
S

1

Non-Profit Meeting

Starts: 1:00 pm

Ends: 2:00 pm, June 1, 2017

End-of-Winter Market

Starts: 4:00 pm

Ends: 6:00 pm, June 1, 2017

2

3

Red Cross First Aid/CPR Training

Starts: 9:00 am

Ends: 10:00 am, June 3, 2017

Food Bank

Starts: 10:00 am

Ends: 12:00 pm, June 3, 2017

4

5

SummerYouthProgramsBeginBGCD

Starts: 12:00 am

Ends: 12:00 am, June 6, 2017

Magic Mondays Slot Tournament

Starts: 12:00 am

Ends: 12:00 am, June 6, 2017

Public Eclipse Meeting

Starts: 1:00 pm

Ends: 2:00 pm, June 5, 2017

6

Antelope Hills Ladies' Golf

Starts: 10:00 am

Ends: 11:00 am, June 6, 2017

Antelope Hills Ladies' Golf

Starts: 4:00 pm

Ends: 5:00 pm, June 6, 2017

Square Dancing

Starts: 8:00 pm

Ends: 9:30 pm, June 6, 2017

7

Double Point

Starts: 12:00 am

Ends: 12:00 am, June 8, 2017

Carnivores: Library Event

Starts: 5:30 pm

Ends: 7:00 pm, June 7, 2017

8

Sleepover with the Sheep

Starts: 6:30 pm

Ends: 7:30 pm, June 8, 2017

Making Cordage

Starts: 7:00 pm

Ends: 8:00 pm, June 8, 2017

9

DonScheerMemorialPackHorseRaces

Starts: 12:00 am

Ends: 12:00 am, June 12, 2017

Full Moon in June: Neighbor Meet & Greet

Starts: 5:00 pm

Ends: 7:00 pm, June 9, 2017

10

11

DonScheerMemorialPackHorseRaces

Starts: 12:00 am

Ends: 12:00 am, June 12, 2017

12

Magic Mondays Slot Tournament

Starts: 12:00 am

Ends: 12:00 am, June 13, 2017

13

Antelope Hills Ladies' Golf

Starts: 10:00 am

Ends: 11:00 am, June 13, 2017

Antelope Hills Ladies' Golf

Starts: 4:00 pm

Ends: 5:00 pm, June 13, 2017

Square Dancing

Starts: 8:00 pm

Ends: 9:30 pm, June 13, 2017

14

Double Point

Starts: 12:00 am

Ends: 12:00 am, June 15, 2017

MacrameHangerLibraryProject

Starts: 5:30 pm

Ends: 6:30 pm, June 14, 2017

15

End-of-Winter Market

Starts: 4:00 pm

Ends: 6:00 pm, June 15, 2017

16

Friday Night Rodeo

Starts: 7:30 pm

Ends: 8:30 pm, June 16, 2017

17

Food Bank

Starts: 10:00 am

Ends: 12:00 pm, June 17, 2017

Swedish Smorgasbord

Starts: 5:00 pm

Ends: 6:00 pm, June 17, 2017

18

19

Magic Mondays Slot Tournament

Starts: 12:00 am

Ends: 12:00 am, June 20, 2017

20

21

Double Point

Starts: 12:00 am

Ends: 12:00 am, June 22, 2017

22

PVC Bows

Starts: 7:00 pm

Ends: 8:00 pm, June 22, 2017

23

Friday Night Rodeo

Starts: 7:30 pm

Ends: 8:30 pm, June 23, 2017

24

Food Bank

Starts: 10:00 am

Ends: 12:00 pm, June 24, 2017

25

26

Magic Mondays Slot Tournament

Starts: 12:00 am

Ends: 12:00 am, June 27, 2017

27

Antelope Hills Ladies' Golf

Starts: 10:00 am

Ends: 11:00 am, June 27, 2017

Antelope Hills Ladies' Golf

Starts: 4:00 pm

Ends: 5:00 pm, June 27, 2017

Square Dancing

Starts: 8:00 pm

Ends: 9:30 pm, June 27, 2017

28

Double Point

Starts: 12:00 am

Ends: 12:00 am, June 29, 2017

Table Mountain Wildlife Habitat Driving & Trek

Starts: 10:00 am

Ends: 2:00 pm, June 28, 2017

29

Summer Farmers' Market

Starts: 5:00 pm

Ends: 7:00 pm, June 29, 2017

30

Friday Night Rodeo

Starts: 7:30 pm

Ends: 8:30 pm, June 30, 2017
Upcoming Events
Antelope Hills Ladies' Golf
Starts: 4:00 pm
Ends: 5:00 pm, June 27, 2017
Square Dancing
Starts: 8:00 pm
Ends: 9:30 pm, June 27, 2017
Double Point
Starts: 12:00 am
Ends: 12:00 am, June 29, 2017
Save
Save
Save
Save
Save
Save
Save
Save
Save
Save
Save
Save