Events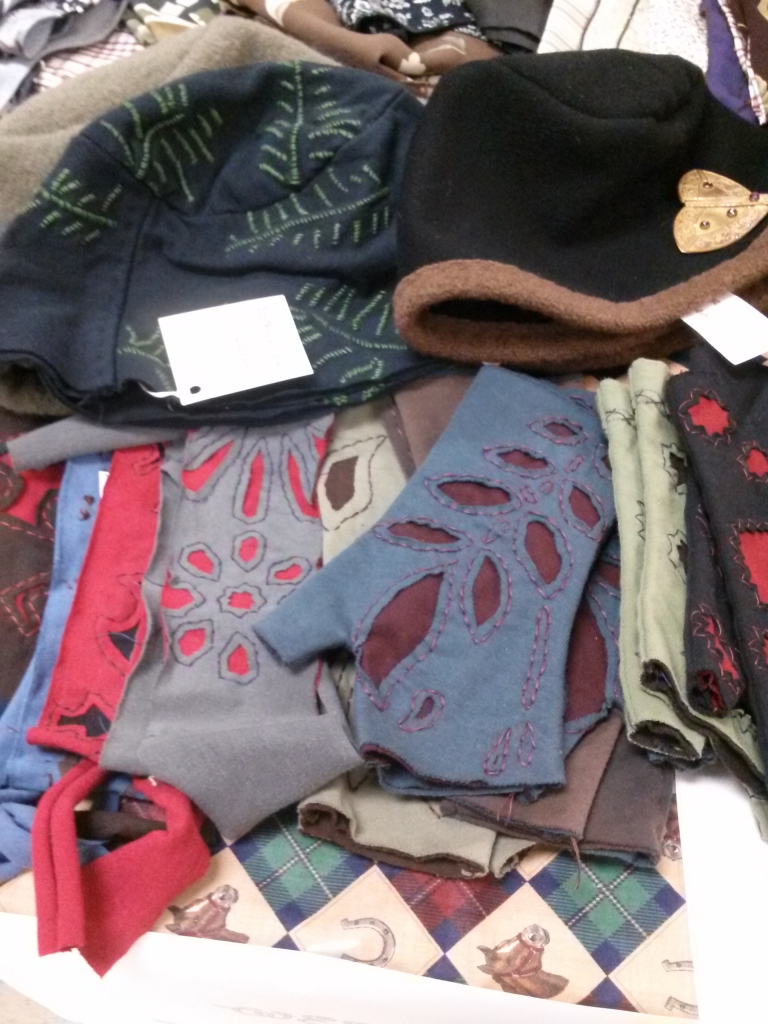 Bring Your Curiosity and Your Checkbook

The middle of March is a great time to find something fresh for your home or your closet.
Come to the Headwaters on March 17 for the annual Flea Market. For some vendors, the object is spring cleaning (and who knows what you might find?). But for others, it's the outcome of a winter's worth of skill at handicrafts, for which many of residents are well-known.
Doors open at 9 AM. Chili and fajitas will be served.
M
T
W
T
F
S
S

1

Winter Farmers Market

Starts: 4:30 pm

Ends: March 1, 2018 - 5:30 pm

Location: St Thomas Community Room

Description: Local vendors sell locally sourced produce, crafts, baked goods, and other items.

Weight Loss Support Group

Starts: 5:30 pm

Ends: March 1, 2018 - 6:00 pm

Location: Mountain Sage Family Clinic, 1428 Warm Springs Dr, Dubois, WY 82513, USA

Description: For information or to RSVP - 307 455 2807

2

Library Family Story Time

Starts: 10:30 am

Ends: March 2, 2018 - 11:30 am

Location: Dubois Library, 202 N. First St., Dubois, WY

3

Food Bank

Starts: 10:00 am

Ends: March 3, 2018 - 12:00 pm

Location: St Thomas Episcopal Church, South 1st Street, Dubois, WY, United States

4

5

Magic Mondays Slot Tournament

Starts: 12:00 am

Ends: March 6, 2018 - 12:00 am

Location: Wind River Hotel & Casino, 10269 WY-789, Riverton, WY 82501, United States

Description: $2,000 in prizes

Snow White & the Seven Dwarfs

Starts: 3:45 pm

Ends: March 5, 2018 - 5:45 pm

Location: Dubois K-12 School, 700 N 1st St, Dubois, WY 82513, USA

Description: Auditions: Open to local children Kindergarten through 12th grade. Conceived and Written by Jim Caron. Music and Lyrics by Michael McGill. A production of MCT, Inc. Missoula Children's Theater.

6

7

Double Point

Starts: 12:00 am

Ends: March 8, 2018 - 12:00 am

Location: Wind River Hotel & Casino, 10269 WY-789, Riverton, WY 82501, United States

8

Dubois Caregiver Support Group

Starts: 10:00 am

Ends: March 8, 2018 - 11:00 am

Location: St Thomas Episcopal Church, 9 S 1st St, Dubois, WY 82513, USA

Description: A monthly support group fro current and past caregivers held the 2nd Thursday of each month. Located at the St Thomas Episcopal Church Coffee Room. Please contact Margaret Chantry at 307-709-0725 if additional information is needed.

Weight Loss Support Group

Starts: 5:30 pm

Ends: March 8, 2018 - 6:00 pm

Location: Mountain Sage Family Clinic, 1428 Warm Springs Dr, Dubois, WY 82513, USA

Description: For information or to RSVP - 307 455 2807

9

Library Family Story Time

Starts: 10:30 am

Ends: March 9, 2018 - 11:30 am

Location: Dubois Library, 202 N. First St., Dubois, WY

10

Food Bank

Starts: 10:00 am

Ends: March 10, 2018 - 12:00 pm

Location: St Thomas Episcopal Church, South 1st Street, Dubois, WY, United States

Dubois Library Book Fair

Starts: 10:00 am

Ends: March 10, 2018 - 2:00 pm

Location: Dubois Library

Description: All donations go to support the Dubois Library. For more information contact
Connie Ticknor @ 307 754 2813

Snow White & the Seven Dwarfs Show 1

Starts: 2:30 pm

Ends: March 10, 2018 - 4:30 pm

Location: Dubois K-12 School, 700 N 1st St, Dubois, WY 82513, USA

Description: Auxiliary Gym Stage at the Dubois K-12 School. $5 admission for Adults $1 for students. Free for preschool.

Dubois Outfitters Associations Pig Roast

Starts: 5:30 pm

Ends: March 10, 2018 - 7:30 pm

Location: Headwaters Community Arts, 20 Stalnaker St, Dubois, WY 82513, USA

Description: In appreciation for local support of the Dubois Outfitters Association, everyone is invited to our Annual Pig Roast! Lots of Prizes!$10 Raffle Tickets for a $500 Cabela's Gift Card, Shotgun, Range Finder, Digital Camera and $100 Cash Prize.Auction Items Include: Guns, Gun Safe, & much more!Also Kids Prizes!Raffle tickets available from local area Outfitters and at the door.<br><b><br></b>

Snow White & the Seven Dwarfs Show 2

Starts: 5:30 pm

Ends: March 10, 2018 - 7:30 pm

Description: Auxiliary Gym Stage at the Dubois K-12 School. $5 admission for Adults $1 for students. Free for preschool.

11

12

Magic Mondays Slot Tournament

Starts: 12:00 am

Ends: March 13, 2018 - 12:00 am

Location: Wind River Hotel & Casino, 10269 WY-789, Riverton, WY 82501, United States

Description: $2,000 in prizes

13

14

Double Point

Starts: 12:00 am

Ends: March 15, 2018 - 12:00 am

Location: Wind River Hotel & Casino, 10269 WY-789, Riverton, WY 82501, United States

15

Winter Farmers Market

Starts: 4:30 pm

Ends: March 15, 2018 - 5:30 pm

Location: St Thomas Community Room

Description: Local vendors sell locally sourced produce, crafts, baked goods, and other items.

Weight Loss Support Group

Starts: 5:30 pm

Ends: March 15, 2018 - 6:00 pm

Location: Mountain Sage Family Clinic, 1428 Warm Springs Dr, Dubois, WY 82513, USA

Description: For information or to RSVP - 307 455 2807

16

Library Family Story Time

Starts: 10:30 am

Ends: March 16, 2018 - 11:30 am

Location: Dubois Library, 202 N. First St., Dubois, WY

Dubois Rodeo

Starts: 7:00 pm

Ends: March 16, 2018 - 9:00 pm

Location: Clarence Allison Memorial Arena, 5639 US-26, Dubois, WY 82513, USA

Description: Friday Night Rodeos in Dubois! Come and enjoy the athletes of rodeo the animals and contestants!
Contact Katie Becker at 307-856-1555 for information.

17

Food Bank

Starts: 10:00 am

Ends: March 17, 2018 - 12:00 pm

Location: St Thomas Episcopal Church, South 1st Street, Dubois, WY, United States

18

19

Magic Mondays Slot Tournament

Starts: 12:00 am

Ends: March 20, 2018 - 12:00 am

Location: Wind River Hotel & Casino, 10269 WY-789, Riverton, WY 82501, United States

Description: $2,000 in prizes

20

Journey to Ram Flat

Starts: 4:00 pm

Ends: March 20, 2018 - 5:00 pm

Location: Warm Valley Lodge - Assisted Living, 5643 US-26, Dubois, WY 82513, USA

Description: National Big Horn Sheep center and Lights on will be performing "Journey to Ram Flat" at Warm Valley Lodge on March 20th at 4pm.

21

Double Point

Starts: 12:00 am

Ends: March 22, 2018 - 12:00 am

Location: Wind River Hotel & Casino, 10269 WY-789, Riverton, WY 82501, United States

22

Dubois Non-Profit Meeting

Starts: 1:00 pm

Ends: March 22, 2018 - 2:00 pm

Location: Headwaters Community Arts, 20 Stalnaker St, Dubois, WY 82513, USA

Description: For information please call Chamber at 455-2556.

Weight Loss Support Group

Starts: 5:30 pm

Ends: March 22, 2018 - 6:00 pm

Location: Mountain Sage Family Clinic, 1428 Warm Springs Dr, Dubois, WY 82513, USA

Description: For information or to RSVP - 307 455 2807

23

Library Family Story Time

Starts: 10:30 am

Ends: March 23, 2018 - 11:30 am

Location: Dubois Library, 202 N. First St., Dubois, WY

Dave Munsick "The Storyteller" Concert

Starts: 7:00 pm

Ends: March 23, 2018 - 9:00 pm

Location: Dubois Branch Library, 202 N 1st St, Dubois, WY 82513, USA

Description: Please join us for an evening of songs and stories with Dave Munsick, the Storyteller! Dave comes to us from Sheridan, WY and is a teacher, a storyteller, a songwriter and a musician. Light refreshments provided. Free admission is sponsored by the Wyoming Arts Council, Dubois Friends of the Library, and Fremont County Libraries.

Dubois Rodeo

Starts: 7:00 pm

Ends: March 23, 2018 - 9:00 pm

Location: Clarence Allison Memorial Arena, 5639 US-26, Dubois, WY 82513, USA

Description: Friday Night Rodeos in Dubois! Come and enjoy the athletes of rodeo the animals and contestants!
Contact Katie Becker at 307-856-1555 for information.

24

Country Style Breakfast

Starts: 8:00 am

Ends: March 24, 2018 - 10:30 am

Location: High Country Senior Citizens, 504 Hays St, Dubois, WY 82513, USA

Description: High Country Senior Citizens Center presents Country Style Breakfast
Homemade biscuits and gravy, scrambled eggs, Grits, Home Fries, and Orange Juice
Price By Donation
All proceeds benefit High Country Senior Citizens Center

Food Bank

Starts: 10:00 am

Ends: March 24, 2018 - 12:00 pm

Location: St Thomas Episcopal Church, South 1st Street, Dubois, WY, United States

Jammin' at the Museum

Starts: 2:00 pm

Ends: March 24, 2018 - 5:00 pm

Location: Dubois Museum, 909 W Rams Horn St, Dubois, WY 82513, USA

Description: Everyone is welcome to join in with your own musical instrument or just come and enjoy listening to the music. The jam will continue until the players decide to stop. Regular admission applies, free to pass holders. More information 307-455-2284,

duboismuseum@gmail.com

, or

http://www.fremontcountymuseums.com

.

25

26

Magic Mondays Slot Tournament

Starts: 12:00 am

Ends: March 27, 2018 - 12:00 am

Location: Wind River Hotel & Casino, 10269 WY-789, Riverton, WY 82501, United States

Description: $2,000 in prizes

27

28

Double Point

Starts: 12:00 am

Ends: March 29, 2018 - 12:00 am

Location: Wind River Hotel & Casino, 10269 WY-789, Riverton, WY 82501, United States

29

Weight Loss Support Group

Starts: 5:30 pm

Ends: March 29, 2018 - 6:00 pm

Location: Mountain Sage Family Clinic, 1428 Warm Springs Dr, Dubois, WY 82513, USA

Description: For information or to RSVP - 307 455 2807

30

Library Family Story Time

Starts: 10:30 am

Ends: March 30, 2018 - 11:30 am

Location: Dubois Library, 202 N. First St., Dubois, WY

Dubois Rodeo

Starts: 7:00 pm

Ends: March 30, 2018 - 9:00 pm

Location: Clarence Allison Memorial Arena, 5639 US-26, Dubois, WY 82513, USA

Description: Friday Night Rodeos in Dubois! Come and enjoy the athletes of rodeo the animals and contestants!
Contact Katie Becker at 307-856-1555 for information.

31

Food Bank

Starts: 10:00 am

Ends: March 31, 2018 - 12:00 pm

Location: St Thomas Episcopal Church, South 1st Street, Dubois, WY, United States
Save