Events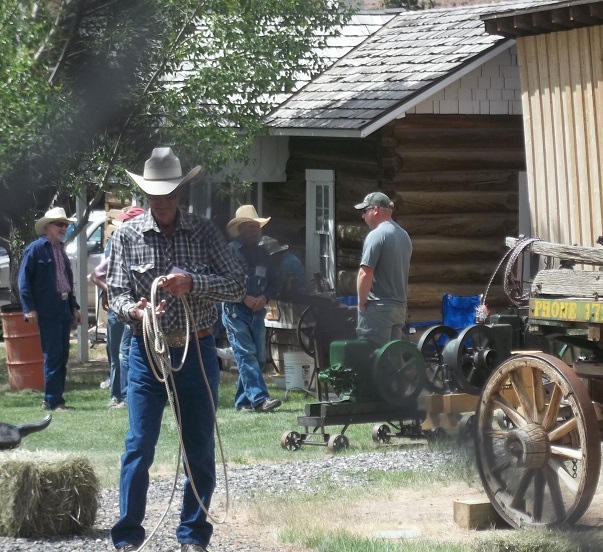 Dubois offers all the events you've dreamed of for your Old West summer vacation — and more.
From the weekly rodeo and square dance to pack horse races
photography and art shows …
Frontier Fest on National Day of the Cowboy …
guided treks to see petroglyphs, or expert guided tours of our incredibly star-filled night skies …
there's always something interesting to do when you want a break from hiking, riding, fishing, or whatever else you've come here to enjoy.
Check out the calendar below to see what's going on while you're in town!
M
T
W
T
F
S
S

1

ATLAS Exhibit, Thunder Feathers

Starts: 4:00 am

Ends: May 1, 2018 - 11:00 am

Location: National Bighorn Sheep Center, 10 Bighorn Lane, Dubois, WY 82513, USA

Description: The ATLAS Exhibit, Thunder Feathers: Greater Sage-Grouse Strut the Plains, Ron Ball Gallery — This special temporary exhibit opens at the National Bighorn Sheep Center, with a special opening presentation on Thursday, April 5th at 5pm-7pm with ATLAS Coordinator Melissa Hemken and Wyoming Game and Fish Biologist Stan Harter. Thunder Feathers highlights, through arts and sciences, Greater Sage-grouse behavior and sagebrush habitat characteristics. Suggested $10 donation per person.

2

Double Point

Starts: 12:00 am

Ends: May 3, 2018 - 12:00 am

Location: Wind River Hotel & Casino, 10269 WY-789, Riverton, WY 82501, United States

ATLAS Exhibit, Thunder Feathers

Starts: 4:00 am

Ends: May 2, 2018 - 11:00 am

Location: National Bighorn Sheep Center, 10 Bighorn Lane, Dubois, WY 82513, USA

Description: The ATLAS Exhibit, Thunder Feathers: Greater Sage-Grouse Strut the Plains, Ron Ball Gallery — This special temporary exhibit opens at the National Bighorn Sheep Center, with a special opening presentation on Thursday, April 5th at 5pm-7pm with ATLAS Coordinator Melissa Hemken and Wyoming Game and Fish Biologist Stan Harter. Thunder Feathers highlights, through arts and sciences, Greater Sage-grouse behavior and sagebrush habitat characteristics. Suggested $10 donation per person.

3

ATLAS Exhibit, Thunder Feathers

Starts: 4:00 am

Ends: May 3, 2018 - 11:00 am

Location: National Bighorn Sheep Center, 10 Bighorn Lane, Dubois, WY 82513, USA

Description: The ATLAS Exhibit, Thunder Feathers: Greater Sage-Grouse Strut the Plains, Ron Ball Gallery — This special temporary exhibit opens at the National Bighorn Sheep Center, with a special opening presentation on Thursday, April 5th at 5pm-7pm with ATLAS Coordinator Melissa Hemken and Wyoming Game and Fish Biologist Stan Harter. Thunder Feathers highlights, through arts and sciences, Greater Sage-grouse behavior and sagebrush habitat characteristics. Suggested $10 donation per person.

Winter Farmers Market

Starts: 4:30 pm

Ends: May 3, 2018 - 5:30 pm

Location: St Thomas Community Room

Weight Loss Support Group

Starts: 5:30 pm

Ends: May 3, 2018 - 6:00 pm

Location: Mountain Sage Family Clinic, 1428 Warm Springs Dr, Dubois, WY 82513, USA

Description: For information or to RSVP - 307 455 2807

4

ATLAS Exhibit, Thunder Feathers

Starts: 4:00 am

Ends: May 4, 2018 - 11:00 am

Location: National Bighorn Sheep Center, 10 Bighorn Lane, Dubois, WY 82513, USA

Description: The ATLAS Exhibit, Thunder Feathers: Greater Sage-Grouse Strut the Plains, Ron Ball Gallery — This special temporary exhibit opens at the National Bighorn Sheep Center, with a special opening presentation on Thursday, April 5th at 5pm-7pm with ATLAS Coordinator Melissa Hemken and Wyoming Game and Fish Biologist Stan Harter. Thunder Feathers highlights, through arts and sciences, Greater Sage-grouse behavior and sagebrush habitat characteristics. Suggested $10 donation per person.

Library Family Story Time

Starts: 10:30 am

Ends: May 4, 2018 - 11:30 am

Location: Dubois Library, 202 N. First St., Dubois, WY

5

ATLAS Exhibit, Thunder Feathers

Starts: 4:00 am

Ends: May 5, 2018 - 11:00 am

Location: National Bighorn Sheep Center, 10 Bighorn Lane, Dubois, WY 82513, USA

Description: The ATLAS Exhibit, Thunder Feathers: Greater Sage-Grouse Strut the Plains, Ron Ball Gallery — This special temporary exhibit opens at the National Bighorn Sheep Center, with a special opening presentation on Thursday, April 5th at 5pm-7pm with ATLAS Coordinator Melissa Hemken and Wyoming Game and Fish Biologist Stan Harter. Thunder Feathers highlights, through arts and sciences, Greater Sage-grouse behavior and sagebrush habitat characteristics. Suggested $10 donation per person.

Food Bank

Starts: 10:00 am

Ends: May 5, 2018 - 12:00 pm

Location: St Thomas Episcopal Church, South 1st Street, Dubois, WY, United States

6

7

Magic Mondays Slot Tournament

Starts: 12:00 am

Ends: May 8, 2018 - 12:00 am

Location: Wind River Hotel & Casino, 10269 WY-789, Riverton, WY 82501, United States

Description: $2,000 in prizes

ATLAS Exhibit, Thunder Feathers

Starts: 4:00 am

Ends: May 7, 2018 - 11:00 am

Location: National Bighorn Sheep Center, 10 Bighorn Lane, Dubois, WY 82513, USA

Description: The ATLAS Exhibit, Thunder Feathers: Greater Sage-Grouse Strut the Plains, Ron Ball Gallery — This special temporary exhibit opens at the National Bighorn Sheep Center, with a special opening presentation on Thursday, April 5th at 5pm-7pm with ATLAS Coordinator Melissa Hemken and Wyoming Game and Fish Biologist Stan Harter. Thunder Feathers highlights, through arts and sciences, Greater Sage-grouse behavior and sagebrush habitat characteristics. Suggested $10 donation per person.

8

ATLAS Exhibit, Thunder Feathers

Starts: 4:00 am

Ends: May 8, 2018 - 11:00 am

Location: National Bighorn Sheep Center, 10 Bighorn Lane, Dubois, WY 82513, USA

Description: The ATLAS Exhibit, Thunder Feathers: Greater Sage-Grouse Strut the Plains, Ron Ball Gallery — This special temporary exhibit opens at the National Bighorn Sheep Center, with a special opening presentation on Thursday, April 5th at 5pm-7pm with ATLAS Coordinator Melissa Hemken and Wyoming Game and Fish Biologist Stan Harter. Thunder Feathers highlights, through arts and sciences, Greater Sage-grouse behavior and sagebrush habitat characteristics. Suggested $10 donation per person.

9

Double Point

Starts: 12:00 am

Ends: May 10, 2018 - 12:00 am

Location: Wind River Hotel & Casino, 10269 WY-789, Riverton, WY 82501, United States

ATLAS Exhibit, Thunder Feathers

Starts: 4:00 am

Ends: May 9, 2018 - 11:00 am

Location: National Bighorn Sheep Center, 10 Bighorn Lane, Dubois, WY 82513, USA

Description: The ATLAS Exhibit, Thunder Feathers: Greater Sage-Grouse Strut the Plains, Ron Ball Gallery — This special temporary exhibit opens at the National Bighorn Sheep Center, with a special opening presentation on Thursday, April 5th at 5pm-7pm with ATLAS Coordinator Melissa Hemken and Wyoming Game and Fish Biologist Stan Harter. Thunder Feathers highlights, through arts and sciences, Greater Sage-grouse behavior and sagebrush habitat characteristics. Suggested $10 donation per person.

10

ATLAS Exhibit, Thunder Feathers

Starts: 4:00 am

Ends: May 10, 2018 - 11:00 am

Location: National Bighorn Sheep Center, 10 Bighorn Lane, Dubois, WY 82513, USA

Description: The ATLAS Exhibit, Thunder Feathers: Greater Sage-Grouse Strut the Plains, Ron Ball Gallery — This special temporary exhibit opens at the National Bighorn Sheep Center, with a special opening presentation on Thursday, April 5th at 5pm-7pm with ATLAS Coordinator Melissa Hemken and Wyoming Game and Fish Biologist Stan Harter. Thunder Feathers highlights, through arts and sciences, Greater Sage-grouse behavior and sagebrush habitat characteristics. Suggested $10 donation per person.

Dubois Caregiver Support Group

Starts: 10:00 am

Ends: May 10, 2018 - 11:00 am

Location: St Thomas Episcopal Church, 9 S 1st St, Dubois, WY 82513, USA

Description: A monthly support group fro current and past caregivers held the 2nd Thursday of each month. Located at the St Thomas Episcopal Church Coffee Room. Please contact Margaret Chantry at 307-709-0725 if additional information is needed.

Weight Loss Support Group

Starts: 5:30 pm

Ends: May 10, 2018 - 6:00 pm

Location: Mountain Sage Family Clinic, 1428 Warm Springs Dr, Dubois, WY 82513, USA

Description: For information or to RSVP - 307 455 2807

"Telling the Story of the Simpson Lake Cabins"

Starts: 7:00 pm

Ends: May 10, 2018 - 9:00 pm

Location: Headwaters Community Arts, 20 Stalnaker St, Dubois, WY 82513, USA

Description: By Kass Harrell a Wyoming Community Bank Speaker Series. This will be upstairs in the Headwaters.

11

ATLAS Exhibit, Thunder Feathers

Starts: 4:00 am

Ends: May 11, 2018 - 11:00 am

Location: National Bighorn Sheep Center, 10 Bighorn Lane, Dubois, WY 82513, USA

Description: The ATLAS Exhibit, Thunder Feathers: Greater Sage-Grouse Strut the Plains, Ron Ball Gallery — This special temporary exhibit opens at the National Bighorn Sheep Center, with a special opening presentation on Thursday, April 5th at 5pm-7pm with ATLAS Coordinator Melissa Hemken and Wyoming Game and Fish Biologist Stan Harter. Thunder Feathers highlights, through arts and sciences, Greater Sage-grouse behavior and sagebrush habitat characteristics. Suggested $10 donation per person.

LAMBS Education Day, Torrey Valley Wildlife Tracking Trek

Starts: 4:00 am

Ends: May 11, 2018 - 8:00 am

Location: National Bighorn Sheep Center, 10 Bighorn Lane, Dubois, WY 82513, USA

Description: Join the National Big Horn Sheep Centers Education Team for a spring wildlife exploration of the Torrey Valley area. Participants will learn about the stories wildlife leave behind including scat, tracks and sign and we will demonstrate plaster casting of wildlife tracks. Suggested $10 donation per person.

Library Family Story Time

Starts: 10:30 am

Ends: May 11, 2018 - 11:30 am

Location: Dubois Library, 202 N. First St., Dubois, WY

12

ATLAS Exhibit, Thunder Feathers

Starts: 4:00 am

Ends: May 12, 2018 - 11:00 am

Location: National Bighorn Sheep Center, 10 Bighorn Lane, Dubois, WY 82513, USA

Description: The ATLAS Exhibit, Thunder Feathers: Greater Sage-Grouse Strut the Plains, Ron Ball Gallery — This special temporary exhibit opens at the National Bighorn Sheep Center, with a special opening presentation on Thursday, April 5th at 5pm-7pm with ATLAS Coordinator Melissa Hemken and Wyoming Game and Fish Biologist Stan Harter. Thunder Feathers highlights, through arts and sciences, Greater Sage-grouse behavior and sagebrush habitat characteristics. Suggested $10 donation per person.

Dubois Library Book Fair

Starts: 10:00 am

Ends: May 12, 2018 - 2:00 pm

Location: Dubois Library

Description: All donations go to support the Dubois Library. For more information contact
Connie Ticknor @ 307 754 2813

Food Bank

Starts: 10:00 am

Ends: May 12, 2018 - 12:00 pm

Location: St Thomas Episcopal Church, South 1st Street, Dubois, WY, United States

13

14

Magic Mondays Slot Tournament

Starts: 12:00 am

Ends: May 15, 2018 - 12:00 am

Location: Wind River Hotel & Casino, 10269 WY-789, Riverton, WY 82501, United States

Description: $2,000 in prizes

ATLAS Exhibit, Thunder Feathers

Starts: 4:00 am

Ends: May 14, 2018 - 11:00 am

Location: National Bighorn Sheep Center, 10 Bighorn Lane, Dubois, WY 82513, USA

Description: The ATLAS Exhibit, Thunder Feathers: Greater Sage-Grouse Strut the Plains, Ron Ball Gallery — This special temporary exhibit opens at the National Bighorn Sheep Center, with a special opening presentation on Thursday, April 5th at 5pm-7pm with ATLAS Coordinator Melissa Hemken and Wyoming Game and Fish Biologist Stan Harter. Thunder Feathers highlights, through arts and sciences, Greater Sage-grouse behavior and sagebrush habitat characteristics. Suggested $10 donation per person.

15

ATLAS Exhibit, Thunder Feathers

Starts: 4:00 am

Ends: May 15, 2018 - 11:00 am

Location: National Bighorn Sheep Center, 10 Bighorn Lane, Dubois, WY 82513, USA

Description: The ATLAS Exhibit, Thunder Feathers: Greater Sage-Grouse Strut the Plains, Ron Ball Gallery — This special temporary exhibit opens at the National Bighorn Sheep Center, with a special opening presentation on Thursday, April 5th at 5pm-7pm with ATLAS Coordinator Melissa Hemken and Wyoming Game and Fish Biologist Stan Harter. Thunder Feathers highlights, through arts and sciences, Greater Sage-grouse behavior and sagebrush habitat characteristics. Suggested $10 donation per person.

16

Double Point

Starts: 12:00 am

Ends: May 17, 2018 - 12:00 am

Location: Wind River Hotel & Casino, 10269 WY-789, Riverton, WY 82501, United States

ATLAS Exhibit, Thunder Feathers

Starts: 4:00 am

Ends: May 16, 2018 - 11:00 am

Location: National Bighorn Sheep Center, 10 Bighorn Lane, Dubois, WY 82513, USA

Description: The ATLAS Exhibit, Thunder Feathers: Greater Sage-Grouse Strut the Plains, Ron Ball Gallery — This special temporary exhibit opens at the National Bighorn Sheep Center, with a special opening presentation on Thursday, April 5th at 5pm-7pm with ATLAS Coordinator Melissa Hemken and Wyoming Game and Fish Biologist Stan Harter. Thunder Feathers highlights, through arts and sciences, Greater Sage-grouse behavior and sagebrush habitat characteristics. Suggested $10 donation per person.

Wyoming Health Fairs Monthly Screening

Starts: 7:00 am

Ends: May 16, 2018 - 10:00 am

Location: Mountain Sage Family Clinic, 1428 Warm Springs Dr, Dubois, WY 82513, USA

Description: Wyoming health fairs Dubois monthly screening from 7am-10am.

17

Winter Farmers Market

Starts: 4:30 pm

Ends: May 17, 2018 - 5:30 pm

Location: St Thomas Community Room

Weight Loss Support Group

Starts: 5:30 pm

Ends: May 17, 2018 - 6:00 pm

Location: Mountain Sage Family Clinic, 1428 Warm Springs Dr, Dubois, WY 82513, USA

Description: For information or to RSVP - 307 455 2807

18

Library Family Story Time

Starts: 10:30 am

Ends: May 18, 2018 - 11:30 am

Location: Dubois Library, 202 N. First St., Dubois, WY

19

Wildlife Stewardship Opportunity

Starts: 12:00 am

Ends: May 20, 2018 - 12:00 am

Location: National Bighorn Sheep Center, 10 Bighorn Lane, Dubois, WY 82513, USA

Description: Volunteers are invited to help remove unused fencing hazardous to wildlife in this stewardship partner project. Please sign up by emailing Sara (sara@bighorn.org) or call 307-455-3429.
Photo by Nick Dobric

Food Bank

Starts: 10:00 am

Ends: May 19, 2018 - 12:00 pm

Location: St Thomas Episcopal Church, South 1st Street, Dubois, WY, United States

The Wild Bunch Discussion

Starts: 7:00 pm

Ends: May 19, 2018 - 9:00 pm

Location: Dennison Lodge, 909 W Ramshorn, Dubois, WY 82513, USA

Description: George Yarbarough is a volunteer at the Pioneer Museum in Douglas, Wyoming and was raised in the Dubois/Crowheart area. His deep interest in the Johnson County War and the Wild Bunch started when visitors asked common questions at the museum. He has spent several years researching both topics. The format of the event will not be a talk but more of a discussion, so bring your questions or stories about the Wild Bunch! This event is for all ages and is FREE!

20

21

Magic Mondays Slot Tournament

Starts: 12:00 am

Ends: May 22, 2018 - 12:00 am

Location: Wind River Hotel & Casino, 10269 WY-789, Riverton, WY 82501, United States

Description: $2,000 in prizes

22

High Country Senior Center Open House

Starts: 5:30 pm

Ends: May 22, 2018 - 7:00 pm

Location: High Country Senior Citizens, 504 Hays St, Dubois, WY 82513, USA

Description: Open house Join the High Country Senior Center celebrate our 40th anniversary!
People of all ages stop in and have a free dinner and celebrate with us! Spaghetti & Meatballs Chicken Alfredo, salad, garlic bread, desserts.

23

Double Point

Starts: 12:00 am

Ends: May 24, 2018 - 12:00 am

Location: Wind River Hotel & Casino, 10269 WY-789, Riverton, WY 82501, United States

24

Weight Loss Support Group

Starts: 5:30 pm

Ends: May 24, 2018 - 6:00 pm

Location: Mountain Sage Family Clinic, 1428 Warm Springs Dr, Dubois, WY 82513, USA

Description: For information or to RSVP - 307 455 2807

25

3rd Annual High Country Fair Arts & Craft Show

Starts: 12:00 am

Ends: May 28, 2018 - 12:00 am

Location: 2 Stalnaker St, Dubois, WY 82513, USA

Description: Dubois Alumni All School Reunion Presents the 3rd Annual High Country Fair Arts & Crafts Show. Memorial Day Weekend in Dubois City Park. Seeking Vendors Antiques, Jewelry, Artwork, Handmade Crafts, Certified Foods, Dealers. (NO YARD SALE ITEMS) For more information contact Dubois Alumni All School Reunion PO Box 915 Dubois WY 82513 phone 307-455-2316 Email is <a href="mailto:duboisalumnireunion@gmail.com">duboisalumnireunion@gmail.com</a>

Library Family Story Time

Starts: 10:30 am

Ends: May 25, 2018 - 11:30 am

Location: Dubois Library, 202 N. First St., Dubois, WY

26

3rd Annual High Country Fair Arts & Craft Show

Starts: 12:00 am

Ends: May 28, 2018 - 12:00 am

Location: 2 Stalnaker St, Dubois, WY 82513, USA

Description: Dubois Alumni All School Reunion Presents the 3rd Annual High Country Fair Arts & Crafts Show. Memorial Day Weekend in Dubois City Park. Seeking Vendors Antiques, Jewelry, Artwork, Handmade Crafts, Certified Foods, Dealers. (NO YARD SALE ITEMS) For more information contact Dubois Alumni All School Reunion PO Box 915 Dubois WY 82513 phone 307-455-2316 Email is <a href="mailto:duboisalumnireunion@gmail.com">duboisalumnireunion@gmail.com</a>

3rd Annual Classic Car & Bike Show

Starts: 10:00 am

Ends: May 26, 2018 - 5:00 pm

Location: Dubois

Description: Dubois Alumni Present's the 3rd Annual Classic Car & Bike Show. Memborial Day weekend. Dubois City Park. Cash prizes awarded 25% of the entry fees. $20.00 per entry. Judged by spectators.

Information Don Schlup 307-455-2316

duboisalumnireunion@gmail.com

Food Bank

Starts: 10:00 am

Ends: May 26, 2018 - 12:00 pm

Location: St Thomas Episcopal Church, South 1st Street, Dubois, WY, United States

Pinch Peel Eat & Repeat

Starts: 4:00 pm

Ends: May 26, 2018 - 6:00 pm

Location: VFW, 107 S 1st, Dubois, WY 82513, USA

Description: Benefit crawfish boil at the VFW! Proceeds go to a veterans bronze at the Veterans Memorial and to the expansion of Duffy Fitness Center. $20 Adults, $10 child 12 & Under. All donations are appreciated. Silent Auction.

27

3rd Annual High Country Fair Arts & Craft Show

Starts: 12:00 am

Ends: May 28, 2018 - 12:00 am

Location: 2 Stalnaker St, Dubois, WY 82513, USA

Description: Dubois Alumni All School Reunion Presents the 3rd Annual High Country Fair Arts & Crafts Show. Memorial Day Weekend in Dubois City Park. Seeking Vendors Antiques, Jewelry, Artwork, Handmade Crafts, Certified Foods, Dealers. (NO YARD SALE ITEMS) For more information contact Dubois Alumni All School Reunion PO Box 915 Dubois WY 82513 phone 307-455-2316 Email is <a href="mailto:duboisalumnireunion@gmail.com">duboisalumnireunion@gmail.com</a>

28

Magic Mondays Slot Tournament

Starts: 12:00 am

Ends: May 29, 2018 - 12:00 am

Location: Wind River Hotel & Casino, 10269 WY-789, Riverton, WY 82501, United States

Description: $2,000 in prizes

29

30

Double Point

Starts: 12:00 am

Ends: May 31, 2018 - 12:00 am

Location: Wind River Hotel & Casino, 10269 WY-789, Riverton, WY 82501, United States

Teton Raptor Center Program

Starts: 8:00 am

Ends: May 30, 2018 - 9:00 am

Location: National Bighorn Sheep Center, 10 Bighorn Lane, Dubois, WY 82513, USA

Description: Wednesday, May 30th, 2pm-3pm:
Teton Raptor Center Program
Join an Avian Educator of the Teton Raptor Center for an exciting educational program and demonstration with live birds here at the National Bighorn Sheep Center. Suggested $10 donation per person.

31

Weight Loss Support Group

Starts: 5:30 pm

Ends: May 31, 2018 - 6:00 pm

Location: Mountain Sage Family Clinic, 1428 Warm Springs Dr, Dubois, WY 82513, USA

Description: For information or to RSVP - 307 455 2807
Save